Posts for: March, 2019
By Centre Family Dentistry
March 17, 2019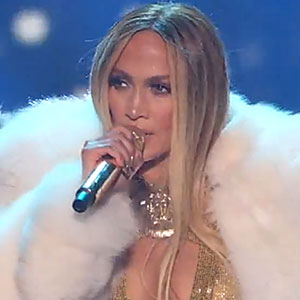 Whether she's singing, dancing or acting, Jennifer Lopez is a performer who is known for giving it all she's got. But during one show, Lopez recently admitted, she gave a bit more then she had planned.
"I chipped my tooth on stage," she told interviewers from Entertainment Tonight, "and had to finish the show….I went back thinking 'Can I finish the show like this?'"
With that unlucky break, J-Lo joins a growing list of superstar singers—including Taylor Swift and Michael Buble—who have something in common: All have chipped their teeth on microphones while giving a performance.
But it's not just celebs who have accidental dental trouble. Chips are among the most common dental injuries—and the front teeth, due to their position, are particularly susceptible. Unfortunately, they are also the most visible. But there are also a number of good ways to repair chipped, cracked or broken teeth short of replacing them.
For minor to moderate chips, cosmetic bonding might be recommended. In this method, special high-tech resins, in shades that match your natural teeth, are applied to the tooth's surface. Layers of resin, cured with a special light, will often restore the tooth to good appearance. Best of all, the whole process can often be done in just one visit to the dental office, and the results can last for several years.
For a more permanent repair—or if the damage is more extensive—dental veneers may be another option. Veneers are wafer-thin shells that cover the entire front surface of one or more teeth. Strong, durable and natural-looking, they can be used to repair moderate chips, cracks or irregularities. They can also help you get a "red-carpet" smile: brilliant white teeth with perfectly even spacing. That's why veneers are so popular among Hollywood celebs—even those who haven't chipped their teeth!
Fortunately, even if the tooth is extensively damaged, it's usually possible to restore it with a crown (cap), a bridge—or a dental implant, today's gold standard for whole-tooth replacement. But in many cases, a less complex type of restoration will do the trick.
Which tooth restoration method did J-Lo choose? She didn't say—but luckily for her adoring fans, after the microphone mishap she went right back up on stage and finished the show.
If you have a chipped tooth but you need to make the show go on, please contact us or schedule an appointment for a consultation. You can also learn more by reading the Dear Doctor magazine articles "Artistic Repair of Chipped Teeth With Composite Resin" and "Porcelain Veneers."
By Centre Family Dentistry
March 07, 2019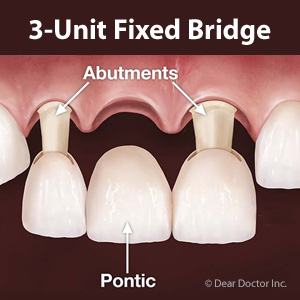 We can do a great many things to preserve diseased teeth, from filling cavities to crowning damaged but still viable teeth to protect them and restore their attractiveness. But there may come a point where continued treatment just isn't worth it, and it may be time to remove and replace your troubled teeth.
Dental implants have become the premier restoration for missing teeth. But they have some anatomical limitations and may not work for some situations like excessive bone loss or close nerve proximity. And while a removable partial denture is a solid option, perhaps you'd rather have a fixed solution.
You might then want to consider a fixed bridge to replace one or more missing teeth. This tried and true option has been a mainstay in dentistry for several decades; and while implants may have surpassed them in popularity, they're still available and effective as a restorative option.
A traditional fixed bridge is composed of three or more life-like crowns that are fused together like pickets in a fence. The crown or crowns in the middle fill the empty tooth space; the outside crowns fit over and are bonded to the natural teeth on either side of the empty space to support the bridge. These natural teeth must be reduced in size to accommodate the crowns to fit over them.
Depending on how many teeth are missing, fixed bridges can be a more affordable alternative to dental implants and can achieve life-like results in both form and dental function. But the alterations required for the supporting teeth are permanent and can weaken them. The interface between the natural teeth and the bridge crowns has a higher risk of decay and periodontal disease, so you'll need to be extra vigilant with daily hygiene and regular dental cleanings and checkups.
And even though implants can be more expensive in the short-term, they typically have better durability and less maintenance costs than other restorations. Over the long-term, an implant restoration might actually incur less cost than a fixed bridge.
Still, a fixed bridge can be an effective way to replace missing teeth. Depending on your finances and your overall dental health, a bridge could help you regain an attractive smile.
If you would like more information on options for replacing missing teeth, please contact us or schedule an appointment for a consultation. You can also learn more about this topic by reading the Dear Doctor magazine article "Crowns & Bridgework."